RECORD: Beck, Richard. 1865. [Darwin's dissecting microscope.] A treatise on the construction, proper use, and capabilities of Smith, Beck, and Beck's achromatic microscopes. London: J. Van Voorst, pp. 102-104.
REVISION HISTORY: Scanned by Angus Carroll, OCRed and corrected by John van Wyhe 8.2008. RN1
NOTE: The copy scanned is from the collection of Angus Carroll.
---
[page] 102 DARWIN'S SINGLE MICROSCOPE.
SINGLE MICROSCOPES.
Darwin's Instrument.
An instrument and apparatus exactly similar to those shown in figs. 46 and 47 were made to the express design of Mr. Darwin, and it is with such arrangements that he has carried on many of his valuable investigations.
Fig. 46.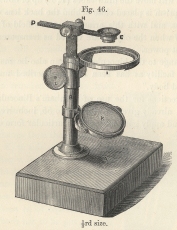 The base (fig. 46, A) is a stout block of oak or mahogany, near one edge of which is screwed an upright stem (B); into this is fitted a triangular bar (C), having a slight cross-arm attached at the top, to carry the magnifiers. This arm is provided with a fitting for rotation at C, or it can be moved backwards or forwards by turning either of the small
[page] 103 DARWIN'S SINGLE MICROSCOPE.
milled heads (H); and by using these movements, separately or combined, the magnifier may be moved over any part of an object which is placed upon the stage (I). The focus of the lenses is adjusted by turning either of the milled heads (L, L); and a large concave mirror, with a smaller flat one at its back, provided with all the necessary movements, supplies the means for transmitting light through an object.
Fig. 47.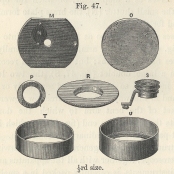 Various pieces of apparatus, which may be required in dissection, fit into the stage of this instrument, which is prepared for the purpose with a deep recess. Into this will fit either of the two large saucers with glass bottoms (T, U); they differ in depth, but are both intended for the dissection of large objects in fluid; and in those cases where transmitted light is not required, the specimen may be pinned to a piece of cork (O), which is loaded with lead to keep it firmly at the bottom of the saucer.
For small objects the size of the stage may be reduced by
[page] 104 DARWIN'S SINGLE MICROSCOPE.
dropping into its recess the brass plate (R), which has a central aperture of only one inch and a half; and the following pieces of apparatus are provided of this size:—two flat and two concave glasses, a piece of boxwood covered with cork, and a holder (P) to receive the ordinary 3X1 glass plates.
Beneath the stage of the instrument is a dovetail fitting for the brass plate (M), which is provided with a small aperture, and serves as a diaphragm; or when the opening is closed by the small shutter (N), the brass plate forms a dark background for the stage.
The lenses are mounted so as to drop easily into the extremity (fig. 46, E) of the arm, and are generally either single lenses or Coddingtons; but Mr. Darwin recommends in addition a large doublet (fig. 47, S), the two lenses of which are mounted, so as to be used separately or in combination, and in this way to furnish three low powers. The small socket of the bent arm to which the doublet is attached fits the arm at the end (fig. 46, D) which is opposite to that part where the ordinary lenses drop in.
This instrument, which is generally termed Darwin's Dissecting Microscope, together with all the apparatus and some dissecting instruments, is carefully packed in a small mahogany case with a lock and handle.
A TREATISE
ON THE
Construction, Proper Use, and Capabilities
OF
SMITH, BECK, AND BECK'S
ACHROMATIC MICROSCOPES.
BY
RICHAED BECK.
LONDON:
PRINTED FOR SMITH, BECK, AND BECK, 31, CORNHILL:
PUBLISHED BY
JOHN VAN VOORST, PATERNOSTER ROW.
MDCCCLXV.
This document has been accessed 6663 times
---
Citation: John van Wyhe, editor. 2002-. The Complete Work of Charles Darwin Online. (http://darwin-online.org.uk/)
File last updated 2 July, 2012