RECORD: Hooker, W. J. 1837-1922. Icones plantarum or figures, with brief descriptive characters and remarks, of new or rare plants, selected from the author's herbarium. London: Longman, Rees, Orme, Brown, Green, & Longman.
REVISION HISTORY: Transcribed by AEL Data, corrections by John van Wyhe 5.2011. RN1
---
Tab. IX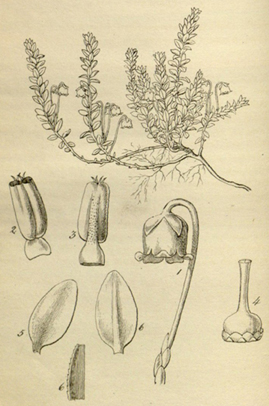 Allan & Ferguson bithey
Pernettia pumila.
TAB. IX.
PERNETTIA PUMILA.
Humilis, caulibus procumbentibus, foliis ovatis obtusis supra convexis subtus carinatis marginibus subtilissime cartilagineocrenulatis.
Arbutus pumila. Linn. Suppl. p. 239. Forst. Comment. Goett. 9. p. 32. Willd. Sp. Pl. v. 2. p. 619.
HAB. South part of Terra del Fuego (n. 171), at an elevation of 2000 feet:—Cape Tres Montes, Lat. 47°. W. Patagonia. C. Darwin, Esq., Dec. 1834 (n. 503).
Gaudichaud, who established the genus Pernettia in the Annales des Sciences Naturelles, at first confidently referred the Arbutus pumila, Linn., to his Pernettia empetrifolia from the Falkland Islands; but afterwards, in the "Voyage," introduced it as a synonym, with a mark of interrogation: and I think it will be found that the description of Linnæus better accords with that which I here figure from Terra del Fuego and Cape Tres Montes. Freycinet's plant is very much larger, a single branch being represented 9 or 10 inches high, nor do the leaves appear to have the minutely crenated cartilaginous margin which is so remarkable in our plant.
Fig. 1. Peduncle and flower. f. 2, 3. Front and back view of an anther. f. 4. Pistil. f. 5. Front, and f. 6. Back view of a leaf, magnified. f. 7. Portion of the margin of a leaf, highly magnified.
Tab. XXV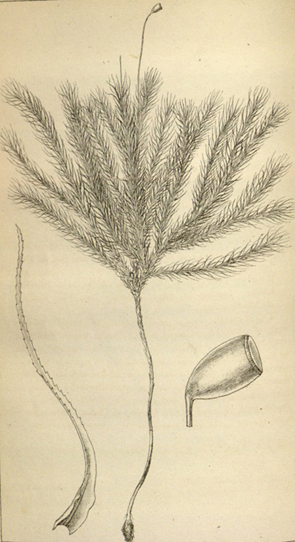 Allan & Ferguson bithey
TAB. XXV.
POLYTRICHUM DENDROIDES.
Elatum comosum, foliis elongatis lineari-subulatis serratis siccitate tortilibus, seta terminali (vel ob innovationibus laterali), capsula pyriformi-ovali tereti inclinata exapophysata.
Polytrichum dendroides. Hedw. Sp. Musc. Suppl. I. 2. p. 346. II. 2. p. 2. t. 151. f. 1. Brid. Musc. Rec. II. P. 1. p. 101. t. 5. f.. 6.
HAB. First found in the Straits of Magellan by Commerson. South part of Terra del Fuego. C. Darwin, Esq. (n. 465). On the highest maritime mountains between Valdivia and the river Toltea, S. Chili. Mr. Reynolds (n. 41). Island of Chiloe. Cuming (n. 1441). Dusky Bay, New Zealand. A. Menzies, Esq.
This is certainly one of the finest species of a very fine Genus; some of my specimens being full 9 inches in length. All bear their branches at the extremity of the stem in a singularly tufted or dendroid manner. The fruit seems to be especially rare: of the two authors who have figured the plant, neither had seen the fructification; and amongst all the specimens that I possess, or have examined, not one had a capsule but that which is here represented, gathered by Mr. Cuming in Chiloe; nor was there a calyptra or operculum, which are yet unknown to authors.
Fig. 1. Leaf. f. 2. Capsule:—magnified.
G
ICONES PLANTARUM;
OR
FIGURES,
WITH
BRIEF DESCRIPTIVE CHARACTERS AND REMARKS,
OF
NEW OR RARE PLANTS,
SELECTED FROM THE AUTHOR'S HERBARIUM.
BY SIR WILLIAM JACKSON HOOKER, K.H.,
LL. D., F.R.A. AND L.S.,
MEMBER OF THE IMP. ACAD. NAT. CUR. &c., &c., &c.,
HONORARY MEMBER OF THE ROYAL IRISH ACADEMY, OF THE ROYAL MEDICAL AND
CHIRURGICAL SOC. OF LONDON, &c., &c.
AND
REGIUS PROFESSOR OF BOTANY IN THE UNIVERSITY OF GLASGOW.
VOL. I.
LONDON:
LONGMAN, REES, ORME, BROWN, GREEN, & LONGMAN.
MDCCCXXXVII.
This document has been accessed 4583 times
---
Citation: John van Wyhe, editor. 2002-. The Complete Work of Charles Darwin Online. (http://darwin-online.org.uk/)
File last updated 2 July, 2012