RECORD: FitzRoy, Robert. [Letter, career resume and photo to A. Delamarche] (1862) Carroll2 Transcribed and edited by John van Wyhe (Darwin Online, http://darwin-online.org.uk/)
REVISION HISTORY: Scanned by Angus Carroll, transcribed and edited by John van Wyhe 8.2012. RN1
NOTE: The letter and resume are written on light blue-grey laid paper (207mm x 328mm) with printed letterhead on first page, with watermark: "J&JH Turkey Mill, 1862". The resume and carte de visite photograph were enclosed with the letter as part of FitzRoy's application to be elected to the French Institute where he had recently been nominated. The resume is remarkable as it offers a summary of FitzRoy's career and the famous Beagle voyage from FitzRoy's perspective.
See FitzRoy's published accounts of the voyage of the Beagle here. Another letter from FitzRoy, also from the collection of Angus Carroll, is available on Darwin Online here.See also a brief note from FitzRoy written 18 days before his suicide here.
John van Wyhe
Reproduced with permission from the collection of Angus Carroll.
---
78
Meteorological Department
2, Parliament Street, London, S.W.
15. April 1862
My dear M. Delamarche1
I now beg you to accept my particular acknowledgements of the 11th caused.
To be proposed as a Corresponding Member of the Institute of France.
Monsieur
M. A. Delamarche &c &c &c
1 Alexandre François Delamarche (1815-1884), French meteorologist and cartographer.
France – even if not Elected – is a real honour appreciated by all the worth – not only the more scientific or learned of its educated and reflecting men.
As I am personally unknown to M. M. de Lesson and Duperry will you oblige me by making my best compliments and
and cordial thanks to them.
I enclose such a paper as seems to myself suitable but I beg you to have it abridged, and altered so as to be in accordance with the forms of the Academy of Science.
I have the honour to remain – with great respect your much obliged friend
Robt. FitzRoy
[4 blank]
Meteorological Department
2, Parliament Street, London, S.W.
15. April 1862
The undersigned was born in 1805 – entered the Navy in 1818 – and commanded a ship in 1820.
This was the Beagle, in which seven years were actively employed in a detailed exploration and survey of Patagonia, Tierra del Fuego, the Falkland and Galapagos islands: from thence continuing a chronometric
chain
chain of meridian distances around the world.
In 1834 he was made Captain. In 1837 the Geographical Society awarded to him their chief Medal: and he also became a Member of the Astronomical Society.   In 1836 the Trinity House elected him an Elder Brother. In 1841, he entered the House of Commons as Member for Durham.
In
In 1843 he was asked to undertake the Government of New Zealand – at a great sacrifice.
Recalled thence, in 1846, because he pursued a course then opposed by the New Zealand Company, but since approved by the Public and Government, he was appointed to command the first experimental Screw Frigate – the Arrogant.
Private reasons, and impaired health, induced him to resign the
command
command of that very successful ship, in 1857. In 1852, he was elected as a Fellow of the Royal Society, and a Member of the Athenaeum.
He was appointed Chief of the Meteorological Department in 1854. Promotion to Rear Admiral, (on the reserve list) occurred in 1857. He has been offered the Presidency of the Ethnological – of the Meteorological – and of the Geographical Societies, but declined those honours, in order to work with less interruption at Meteorology.
Robert Fitz Roy

Rear Admiral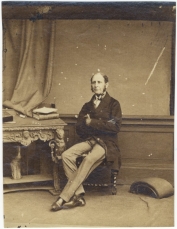 ADMIRAL FITZROY,
Distinguished Meteorologist.
This document has been accessed 6364 times
---
Citation: John van Wyhe, ed. 2002-. The Complete Work of Charles Darwin Online. (http://darwin-online.org.uk/)
File last updated 30 April, 2022