Emma Darwin's Diaries (1824-1896)
An introduction by Janet Browne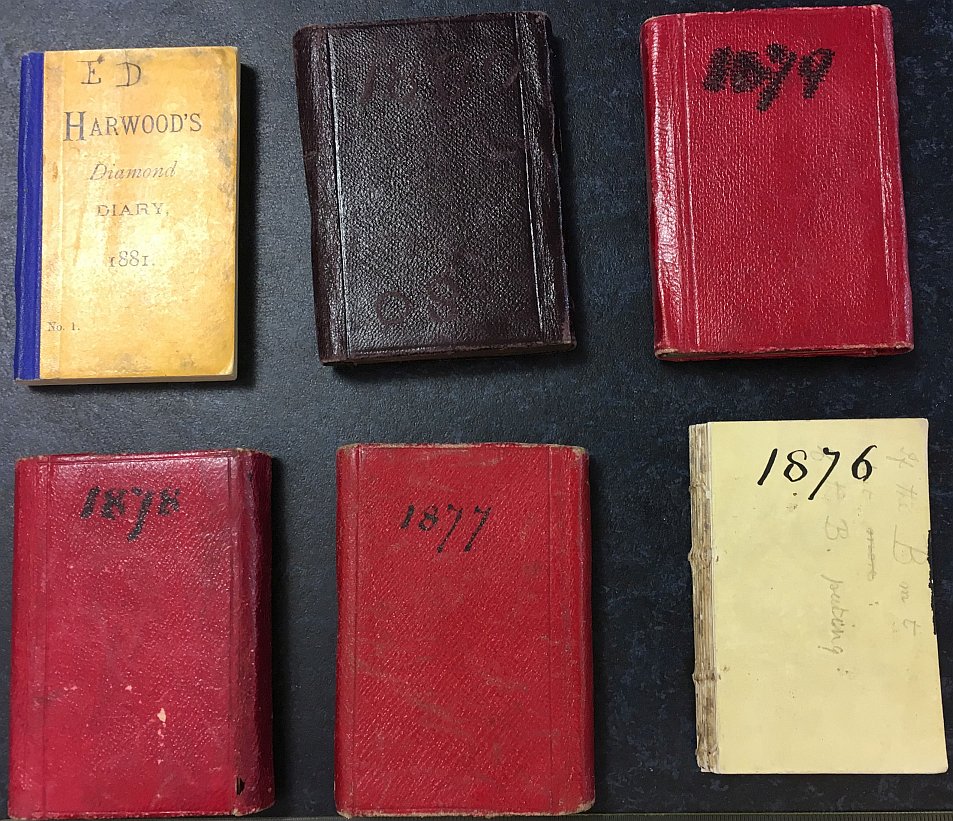 Previously known only to a few scholars familiar with the additional holdings of the Darwin Archive at Cambridge University Library, Emma Darwin's diaries are made available here through the kindness of their owner, Professor Richard Darwin Keynes. These pocket diaries have generously been on deposit in the Darwin Archive for a number of years. They provide a wonderful historical resource, not only for Darwin scholars but also as a social document of prosperous middle-class life in the Victorian era. Darwin Online is proud to present facsimiles of the entire extant collection of Emma Darwin's diaries. The first diary is dated 1824, when Emma Wedgwood was sixteen, a lively and attractive young woman, shortly to participate in a European tour with her sisters and parents, Josiah and Bessy Wedgwood. She married Charles Darwin, her first cousin, in January 1839. The final diary in the collection records the last year of her life.
It should be noted that these diaries are not discursive journals. However Emma Darwin (1808-1896) used these little books to make notes of appointments, important family events, a seemingly endless succession of illnesses and remedies, primarily relating to her children and husband, visits to and from relatives and friends, concerts to attend, minor expenses, charitable activities and other daily memoranda. In this sense, they constitute a vivid record of daily life in the Darwin household. Indeed, they take the reader right to the heart of family life. On her marriage Emma Darwin first lived in London and then, in 1842, moved to a large country house, Down House in Kent, where she ran an increasingly substantial household, ultimately comprising seven children (of the ten children born to Charles and Emma), with associated resident staff in the house, including a cook, parlour maid, nursemaids and a procession of governesses. Her diaries reflect the division of labour common in Victorian households, in that she was generally responsible for the female staff. Darwin took responsibility for the household's butler, men servants, grooms and garden staff, and as head of the family undertook payment of salaries. Emma Darwin kept her own personal accounts, hence the frequent annotations in the pocket diaries concerning small items of expenditure that she wished to enter into her account books when convenient. Early diaries record visits to London, concerts of the Philharmonia, the pantomime and dentist. Through the 1860s and 1870s they record the changing activities of their children as they reached adulthood, married and began their careers. Always close to her sisters and cousins in the Wedgwood circle, Emma frequently hosted house parties of relatives, and often also entertained visiting scientists who came to consult, advise or pay homage to Darwin. These activities, sometimes amounting to ten or fifteen guests in the house, somewhat contradict Darwin's comments about living a retired life in the country. Late in life, Emma and Charles provided a home for their son Francis Darwin and their first grandson, Bernard Darwin, whose mother Amy Darwin had died in childbirth—with all its concomitant return of duties.
In more personal terms, Emma's diaries also record in abbreviated form the ebb and flow of Darwin's ill health and the extended illnesses of the children, including the death of their daughter Anne in 1851, and Henrietta's protracted illness around 1860. Emma often noted small details of the invalid's progress, such as 'came downstairs'. Her own complaints are recorded, usually in abbreviated form, including symbols for the date of her menstrual periods, and those of her daughters, and the regular return of headaches.
Janet Browne
March 2007
Emma Darwin's diary (1824-1896) Text & images
Emma Darwin's diary (in one file): Text CUL-DAR242