Animal Intelligence
An introduction by R. B. Freeman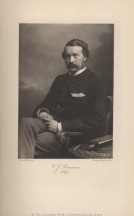 Romanes sent this to the press before Darwin's death, and the preface contains a note to that effect. The book is largely made up of long quotations from the work of others, including The origin of species and The descent of man; but it also contains a number of extracts from Darwin's notes on behaviour, especially of the social insects, which he had lent to Romanes. These had not appeared elsewhere until Stauffer's transcription of the second part of the 'big book' on the origin of species in 1975 (F1583). They are discussed below under Romanes' Essay on instinct, 1883.
The nine so-called editions are mere reprintings from stereos with new title leaves, a bad habit of the International Scientific Series.
Darwin, C.R. [Extracts from Darwin's draft chapter 10 of Natural selection on instinct]. 1882. In Romanes, G. J., Animal intelligence. London: Kegan Paul Trench & Co. Text Image Text & image PDF F1416
Click here for a full bibliographical list.
From: Freeman, R. B. 1977. The works of Charles Darwin: an annotated bibliographical handlist. 2d ed. Dawson: Folkstone.
NOTE: With thanks to The Charles Darwin Trust and Dr Mary Whitear for use of the Bibliographical Handlist. Copyright. All rights reserved. For private academic use only. Not for republication or reproduction in whole or in part without the prior written consent of The Charles Darwin Trust, 31 Baalbec Road, London N5 1QN.
Corrections and additions copyright John van Wyhe, The Complete Work of Charles Darwin Online - National University of Singapore.