History of Darwin Online

DARWIN Online was founded in June 2002 by John van Wyhe at the National University of Singapore (NUS). The principal goal was to provide scholarly digitizations of all of Darwin's writings (except unpublished correspondence, which was already being done). At that time there was no single online resource for the writings of Darwin. One ultimate end was to create a resource which would enable searching electronically through the entire Darwin corpus. The many online Darwin texts at that time lacked essential bibliographical information such as edition, publisher, place of publication etc. Page numbers were nowhere to be seen. Such features vastly reduced the usefulness of online texts as they could not be easily cited. It was also impossible to know the precise date of the text on the screen. For example, the many online 'first editions' of Darwin's Origin of Species are often not first editions at all as they contain the phrase 'survival of the fittest'—famously coined by Herbert Spencer and first included in the 5th edition of 1869. Many other online copies of the Origin purported to be the first edition yet contained the 'Historical Sketch', first found in English in the 3rd edition of 1861. Most historical texts on the internet contain silent additions or omissions—footnotes are changed to endnotes or formatting altered without informing readers where this has been done. If scholars are to find digital texts more useful, it must be perfectly clear which historical text is represented and the text must be useable and citable in conventional ways.
The pilot website, The writings of Charles Darwin on the web (http://pages.britishlibrary.net/charles.darwin/), was launched in August 2002, hosted by the British Library free webspace service. The project was privately funded by van Wyhe. Many volunteers (most notably Sue Asscher of Project Gutenberg) were brought together along with some volunteer student labour at NUS. Between 2002-3 many of Darwin's publications were added, though due to lack of any external funding many only in late or American editions- as an interim solution until first and other editions could be procured.
In mid-2003 it was decided to apply for funding to enlarge and improve Darwin Online. In January 2004 Antranig Basman joined as Technical director. Janet Browne joined van Wyhe after chairing a meeting at the Cambridge University Library between Darwin Online, The Charles Darwin Trust, Cambridge University Library and The Darwin Correspondence Project, to discuss future cooperation. Randal Keynes also came to be an important key supporter and advisor.
October-December 2003 van Wyhe proposed, unsuccessfully, that the Cambridge History and Philosophy of Science Department host a project to digitize Darwin's complete publications and manuscripts.
January 2004 John van Wyhe was introduced to David Kohn by Randal Keynes. Kohn was invited to join as manuscripts editor and given a copy of van Wyhe's detailed work-in-progress Darwin Online proposal. Kohn did not join the project.
In June 2004 The Charles Darwin Trust procured the copyright of the Freeman Bibliographical Handlist (1977) and other items for Darwin Online. Also in 2004 the Project was elected (with van Wyhe as representative) to be a stakeholder in the partnership working up the case of Down House as a World Heritage site along with English Heritage, The Natural History Museum, English Nature and Bromley Council.
Van Wyhe invited Randal Keynes, Pietro Corsi, James Moore, Adrian Desmond, Patrick Zutshi, Mario di Gregorio and Rob Iliffe to form an Editorial advisory panel. Sue Asscher was appointed Associate Editor.
In July 2004 Browne and van Wyhe met with Ludmilla Jordanova, director of The Centre for Research in the Arts, Social Sciences and Humanities, University of Cambridge, to discuss acting as institutional host for an AHRB grant.
2004 August. Mario di Gregorio gives permission for Marginalia to join Darwin Online collection.
In October 2004 van Wyhe requested the permission of Cambridge University Library to reproduce images from microfilm and transcriptions of the Darwin Archive. Similar permission was also sought from English Heritage.
In January 2005 van Wyhe invited Gordon Chancellor to join Darwin Online as an Associate Editor.
David Kohn was sent a copy of the AHRC Darwin Online proposal by John van Wyhe to facilitate openess and scholarly cooperation.
The Charles Darwin Trust generously awarded £400 per year towards server maintenance costs for three years.
In June 2005 an AHRC Resource Enhancement Grant was awarded to James Secord and Janet Browne for Darwin Online; van Wyhe purchased the web domain darwin-online.org.uk. An overview page was published there outlining the forthcoming expansion.
In August 2005 Kees Rookmaaker was appointed Research Associate.
In September 2005 van Wyhe and Peter Kjærgaard set up a Danish branch of Darwin Online at the University of Aarhus- later called Darwin in Denmark.
In October 2005 the funding began from the AHRC. The office was set up in Cambridge at CRASSH. From this date full-time work began to create the new Darwin Online website. John van Wyhe selected new computers and discussed details of the database construction with Basman. Work was begun to reformat materials from the pilot website to the specifications of the new site. Basman produced an initial technical specification for the database. Van Wyhe wrote transcription and tagging policies for outsource service provider, AEL Data, of Chennai, India and worked with them back and forth through a long process of adjustment. Rookmaaker began correcting the OCR of Freeman (1977). Rookmaaker then imported this to an interim Access database. Basman created the initial XHTML Content Markup Standard. Initial commercial server web space was purchased by van Wyhe. Browne, Secord and van Wyhe selected the list of Darwin's published works to be first priority for digitization and initial manuscripts to transcribe.
Between November 2005 and January 2006 Rookmaaker, van Wyhe and Basman imported and converted the massive catalogue of the Darwin Archive in Cambridge University Library (made and supplied by Nick Gill) to an interim database. Secord negotiated the permission of the The Correspondence of Charles Darwin to use their working transcription of Darwin's Journal.
From November 2005 AEL Data began supplying converted documents from the pilot site and new transcriptions from scans provided. Van Wyhe and Basman changed the dynamic page linking format - Basman proposed a clever compromise solution that was easier for AEL Data to implement and was less sensitive to errors.
Also in November Rookmaaker began transcribing new Darwin manuscripts with DAR210.9.30.
On 15/12/2005 Darwin Online's launch event at CRASSH was held. It was introduced by Ludmilla Jordanova. Randal Keynes provided a stirring reading from the Origin of species.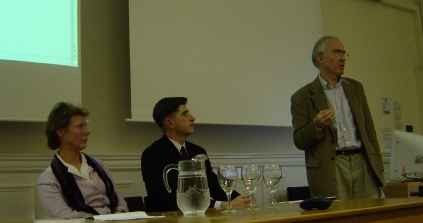 In December 2005 Secord, Browne and van Wyhe met with Karen Goldie-Morrison of The Charles Darwin Trust to discuss a copyright license for the Freeman materials.
In January 2006 Rookmaaker began transcribing the Beagle field notebooks based on Chancellor's (handwritten) transcription.
11.1.06 van Wyhe met with Chancellor and Zutshi to discuss possibility of finding funding to scan Darwin Archive in CUL.
In March 2006 Browne checked a number of new transcriptions against the manuscripts in the Darwin Archive.
Over three months Rookmaaker, van Wyhe and Basman imported the Darwin Catalogue of the Cambridge University Library to an interim Access database. Rookmaaker and van Wyhe created concise references for all entries in Freeman's Handlist in a new database.
Between February and August 2006 Kees Rookmaaker re-transcribed Darwin's Beagle diary.
By August 2006 Basman had a test site working on Darwin Online's new server at CARET. License agreements with the Cambridge University Library and English Heritage were received.
A first set of 69 microfilm reels was delivered by the Cambridge University Library photographic service on 08/09/2006. These were sent the same day to AEL Data for scanning. (A further 20 reels were received in January 2008.)
10.2006 License agreement from The Charles Darwin Trust received.
---
19 October 2006 the new website is launched. See the press release.
The publication was a surprise sensation, probably unparalleled for an academic online publication on a single individual. According to the University Press Office it was by far the biggest news story from the University of Cambridge that year.
First was the BBC news website which put Darwin Online on their first page. (http://news.bbc.co.uk/1/hi/sci/tech/6064364.stm) From there the story quickly spread all over the world. Most importantly it was picked up by the major news services such as the Press Association, Reuters and the Associated Press. Eventually more than 900 websites and newspapers were carrying the story- literally all over the world and in many languages. Hundreds more blog sites carry the news. There was a feature in Nature and pieces in The Times, Guardian, Telegraph, Financial Times, The Independent, Singapore Today, Die Sueddeutsche Zeitung, Daily Telegraph, Washington Post, etc. etc.
The media storm had begun. Many media appearances and interviews with John van Wyhe followed on the 19th:
TELEVISION
BBC 1 Breakfast News
BBC News 24
BBC World
Look East
Anglia TV
Canadian Broadcasting Corporation
RADIO
Radio 4 News Briefings
Radio 4 Today Programme
World Service
Radio Cambridgeshire
Radio Scotland
Radio Wales
Radio Shropshire
Radio Severn
During the 19th the story was the most e-mailed on the BBC website and the second most-watched video.
The news of the launch of Darwin Online reached well over 400 million people across the globe.
On Saturday the 21st Darwin Online was mentioned on 'Ant & Deck's Saturday Night Takeaway.'
The website was soon swamped with visitors and the counter began rising through the first night. The following morning there were already tens of thousands of hits on the front page and the site was running slowly.
At 11.14am the site succumbed to excessive traffic. Daniel Parry and Antranig Basman soon had it back up and running and by the end of the afternoon all problems had been resolved.
There were a few more interruptions as they carried out changes to improve the load capacity. By the late afternoon the site was running fast and smoothly despite an enormous load. The site received 80,000 hits to its home page the first day and the server received over 5 million requests altogether for files. At the peak there were 40 clicks on the site per second.
At the moment of writing (on 24 October) there have been 231,286 hits on the home page and perhaps 12 million server requests across the entire website. This shows that users are using the site and not just visiting the home page and leaving.
Darwin Online served 226 Gigabytes the first day, and even more the following day.
Before the launch Google showed 174 pages carried the exact words "the complete work of charles darwin online". A search on 25 October, less than one week later, showed 20,500.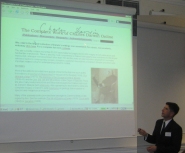 A large number of emails were also received. A sample is available here. These give a fascinating glimpse into what readers think.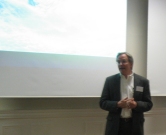 A launch celebration was held at CRASSH on Friday. Ludmilla Jordanova spoke first, with some very kind words about the project and what it means. Jim Secord then spoke about the project and how important it is to have all the editions of Darwin's work available. Tom Kirk explained the media storm. Basman then gave a lively account of the site's first night and its rescue the following day. Van Wyhe spoke further about the site and then thanked most especially Asscher, Rookmaaker, Basman and Chancellor for their extraordinary achievements and contributions. Van Wyhe also thanked especially the AHRC and the institutions and individuals who have contributed. Finally Randal Keynes spoke, concluding with a moving reading of the final paragraph of the Origin.
So even at this early stage Darwin Online has fulfilled its aims. It has brought Darwin to the world, and people all over the world are reading Darwin.
This was seen in a generous letter sent by the Vice Chancellor of the University:
Professor Alison Richard, MA PhD DL
The Vice-Chancellor

University of Cambridge
Vice-Chancellor's Office

Dr John van Wyhe
Centre for Research in the Arts, Social Sciences and Humanities
17 Mill Lane

26 October 2006

Dear Dr. van Wyhe

I wanted to write to you personally to say how delighted I was to hear of the launch of The Complete Work of Charles Darwin Online.

Your project is not only a great academic achievement, but one which has clearly touched millions of people worldwide, as evinced by the global media coverage it has received.

Such work can only serve to further enhance the University of Cambridge's reputation for world-class research and innovation and for that I offer you my thanks.

Best wishes and congratulations,

[signed] Alison

A F Richard

The Old Schools
Trinity Lane
Cambridge CB2 1TN
---
17 April 2008 Darwin's Private Papers. The second major component of Darwin Online is launched. See the press release and the announcement page.
For decades available only to scholars at Cambridge University Library, the private papers of Charles Darwin, one of the most influential scientists in history, can now be seen by anyone online and free of charge. This is the largest publication of Darwin papers and manuscripts in history, totaling about 20,000 items in nearly 90,000 electronic images.
This vast and varied collection of papers includes the first draft of his theory of evolution, notes from the voyage of the Beagle and Emma Darwin's recipe book.
We are extremely grateful for the kind permission of Cambridge University Library to reproduce these online.
Millions of visitors on the 17th and 18th of April brought Darwin Online a few times to a standstill. In addition to the story being widely reported in the media and online, it was the second most emailed story of the day on the BBC news website. In addition to exploring the new online papers and manuscripts, on the 17th readers downloaded 14,000 copies of the first edition of Origin of Species as PDF. See also some of the reader feedback.
TELEVISION

ITV Anglia TV
Danish National Evening News

RADIO

BBC Radio 4 Today Programme
BBC Shropshire
BBC Radio Five Live breakfast
BBC Radio Cambridgeshire Breakfast
BBC Radio Kent
ABC Austrlia Breakfast
BBC Radio Five Live Drivetime
BBC World Service, Brazil
BBC Wales

Digital Darwin. The Guardian
Online: Darwin's notes from small islands. The Independent, p. 3.
On the Origin of Muffin Pudding, by Emma Darwin. New Scientist
Darwin's treasure trove. New Humanist Magazine
Darwin's private papers get Internet launch. Christianity Today
Darwin's private papers get Internet launch. Washington Post
Liverpool Echo
Evening Standard
Darwin's private papers get Internet launch. MSNBC
The origin of The Origin Of Species ... First version of Darwin's theory of evolution goes online. Daily Mail
Darwin's private papers launched on the Internet. Financial Mirror
Darwin's private papers get Internet launch. Mirror
Darwin's papers published online. ITWeb South Africa
Cambridge releases Darwin's writings on Internet. Xinhua, China
Darwin online opens new world. The West Australian
Darwin's first drafts of evolution theory online for first time. Tech Herald
Darwin's private papers get Internet launch. US Daily
Darwin original theory goes online. Channel 4 News
Darwin's private papers get Internet launch. Yahoo news
Darwin's private papers get Internet launch. Scientific American
Darwin original theory goes online. The Press Association
Darwin's private papers get Internet launch. Reuters
GMTV website
Charles Darwin's theories hit the web. Cambridge Evening News
Darwin's diary dumps on Australia. Ninemsn, Australia
Darwin's private papers online. The Australian, Australia
Notes from Charles Darwins works and private life published online. Thaindian.com, Thailand
monthly newsletter of Leicester Secular Society
Online archive shows how Darwin's ideas evolved. EducationGuardian.co.uk
Sydney Morning Herald, Australia
The Age, Australia
Brisbane Times, Australia
Times of India
Agence France-Presse
Channel Nine MSN, Australia
Daily Mirror
France 24
Der Spiegel, Germany
Yorkshire Post
STV (Scottish TV online)
US Daily
Philippines Inquirer
Net4Now
et al . ...
---
2009, 03.23 Darwin's student bills at Christ's College, Cambridge
Darwin's student bills have recently been discovered at Christ's College, Cambridge, where Darwin was a student from 1828-1831 and were published in full for the first time on Darwin Online with the kind permission of the Master and Fellows of Christ's College. Major international news coverage resulted from the online launch.
2009, 03.25 Darwin war als Student von Kopf bis Fuß ein Gentleman. Hamburger Abendblatt 
2009, 03.24 [Interview with John van Wyhe on Darwin's student bills] Reality Check. FM4 Österreichischer Rundfunk (Austrian radio)
2009, 03.24 Darwin's University Days. History Today
2009, 03.24 Tales of the City. Independent
2009, 03.23 [Interview with John van Wyhe on Darwin's student bills] BBC Radio Cambridgeshire
2009, 03.23 Darwin's student records published. The World Today. ABC Radio (Australia) (click for audio)
2009, 03.23 Charles Darwin's student debts. Guardian podcast.
2009, 03.23 Darwin's 'gentleman' student days. BBC News website.
2009, 03.23 Darwin's College Bills. Science magazine
2009, 03.23 Darwin's bills detailed. Nature
2009, 03.23 Charles Darwin spent more on shoes than books while at university, archives reveal. Mail Online
2009, 03.23 Darwin Archive Reveals Survival of the Most Comfortable. Digital Journal
2009, 03.23 Darwin's student salad days uncovered. The Herald
2009, 03.23 Darwin 'was a designer shopaholic'. Daily Express
2009, 03.23 Darwin's day-to-day life dug up. Cambridge Evening News
2009, 03.23 Darwins Rechnungen. Frankfurter Allgemeine Zeitung
2009, 03.23 Student Darwin bezahlte Kaminkehrer und Schuheputzer. net tribune
2009, 03.23 At Cambridge, Darwin's Natural Selection was comfort, ledgers show. The Chronicle of Higher Education.
2009, 03.23 Flash Darwin. The Sun
2009, 03.23 Darwin 'liked his greens'. Press Association
2009, 03.22 Darwin's university lifestyle uncovered. Guardian
2009, 03.22 Darwin's university lifestyle uncovered. The Observer
2009, 03.22 Darwin: From apes to drapes. Metro
2009, 03.22 Book discovery sheds light on Darwin as student. International Herald Tribune
2009, 03.22 Archives shed light on Darwin's student days. Reuters
2009, 03.22 Darwin 'spent more on food than books during college days'. Silver scorpio
2009, 03.22 Charles Darwin's personal finances revealed in new find. Telegraph
2009, 03.22 Well-heeled Charles Darwin. Telegraph
2009, 03.20 Records of how charles darwin spent his money have been unearthed in Cambridge. Ely Standard
---
August 2008 Darwin Online is awarded the prestigious Thackray Medal by the Society for the History of Natural History which writes; 'The medal is awarded for a significant achievement in the history of those areas of interest to the Society in memory of John Thackray. ... [Darwin Online is] a monumental achievement: making freely available an exhaustive collection of primary sources and doing so in a way that is easy to use by both novices and experts'. The medal will be awarded by the President of the Society at its AGM on 28 March 2009 at the National Museum of Wales, Cardiff.
September 2008 AHRC funding ended.
October 2008 - September 2009. An anonymous donor generously funds Darwin Online for a further year.
The Vice Chancellor, Alison Richard, appointed Pro Vice Chancellor Kate Pretty to look into assisting Dr van Wyhe and Darwin Online to remain at Cambridge and to secure future funding. A "committee of oversight" was appointed by Kate Pretty to oversee the private donation (secured by van Wyhe) and act as PI, consisting of Anne Jarvis, Deputy head of Cambridge University Library, Jim Secord, and Mary Jacobus, Director of CRASSH. The committee informed van Wyhe that it would not serve as PI for any further funding, and therefore no further funding for Darwin Online would be accepted by the University of Cambridge and hence Darwin Online would have to find another institutional home.
June 2009 A glowing peer review assessment of the AHRC final report is received: A "resounding success". "I cannot imagine a better project in terms of value for money. This is a resource closely linked to top-level scholarly research, of clearly international significance, and meeting all the key objectives of AHRC funding, including knowledge transfer. It is a matter for celebration that the AHRC has supported this project."
July 2009 Negotiations with the private donor and the National University of Singapore are proceeding.
---
30 September 2009 The funding at the University of Cambridge expires and Darwin Online leaves the University and is set to move to the National University of Singapore - where it was founded by John van Wyhe in 2002. The Darwin Online website will remain fully active and URLs, links and full searchability will remain unaffected as the site continues to be generously hosted by CARET.
---
December 2009 John van Wyhe is appointed Senior Lecturer at NUS, and thus takes Darwin Online back to Singapore.
A private donation from the same anonymous donor will ensure the project can continue to grow and expand through 2013.
---
31 July 2010 John van Wyhe uploads last additions and updates to the site from Cambridge.
---
November 2010 Darwin Online Facebook page opened.
---
2012 New website launched. (new web design)
---
2014, July Darwin's Beagle Library launched. Our biggest addition in several years, the Beagle library doubles the amount of searchable text on Darwin Online. We have also upgraded to a faster server.
. . .
John van Wyhe